SEAFOOD
Cooling technology connecting everything from fishing to consumption
Better for you, your customers
and the environment
High freshness distribution

Temperature control technology to prevent loss of seafood quality and value

Reduce environmental impact

Cooling units that use natural refrigerants

Food safety and peace of mind

Hygienic production lines
Contact us for more details
Stably supplies safe products with a complete and hygienic system
In the export of seafood products, the number of countries demanding hygiene management via HACCP is increasing. Additionally, hygiene management is essential in processing facilities to ensure safe seafood for consumers.
With its extensive engineering experience, Mayekawa ensures that the freezers and conveyors incorporated into the line have a simple structure that emphasizes washing and cleanability in the design concept. Our easy-to-wash and hygienic systems contribute to food safety.
Additionally, the overall design, including hygienic aspects such as air shutters that are highly effective at preventing insects from entering facilities through entrances/exits, assists in creating an end-to-end environment where products can be safely and hygienically produced.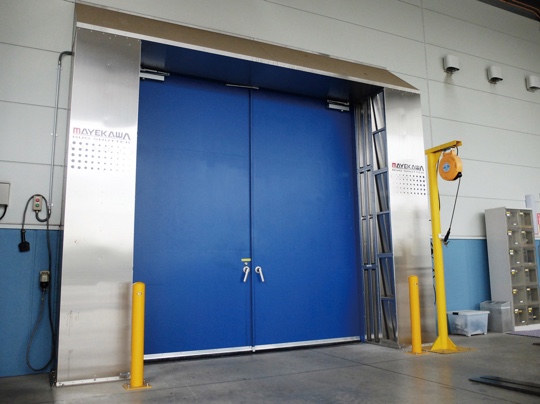 Simultaneous realization of energy saving and global environmental conservation
Ice and cooling are required in the distribution of seafood, which rapidly loses its freshness. However, many of the cooling systems used by ice-making, freezing, and cold storage facilities currently use fluorocarbon refrigerants that destruct the ozone layer and significantly contribute to global warming; and, accordingly, international regulations governing their use are deepening.
In a time where the conversion to natural refrigerants is simultaneously being sought, systems developed by Mayekawa, such as an ultra-low temperature refrigeration system that uses air as a refrigerant, and high-efficiency refrigerators that use indirect cooling systems that cool CO2 with ammonia are starting to be adopted in the market.
In addition to protecting the global environment, the high energy efficiency of this equipment lowers power consumption across the entire cooling facility, leading to advantages such as reduced facility operational costs.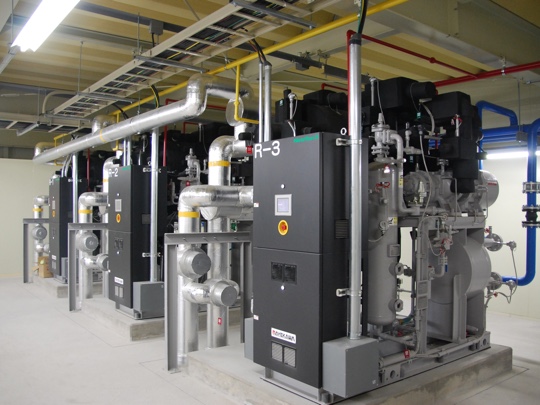 Build continuity of food freshness management, an essential element of distribution
In recent years, it is revealed that aquaculture is responsible for half of the output of global production for the fishing industry. However, as with fishing, the production of seafood products is unstable and highly affected by natural conditions. The quality of fresh fish rapidly declines due to spoilage and drops in the degree of freshness. As such, the application of cooling technology is essential for long-term storage and ensuring the stable provision of raw food materials for processing.
Mayekawa supports distribution from production to the point of sale to consumers through a combination of technologies that prevent product value and quality degradation, including the following:
• Technology related to making plate ice, which has excellent properties for keeping items cold and thus contributes to maintaining freshness during transport immediately after fish/marine animals have been caught
• Storage technology that ensures product is kept under optimal conditions in cold storage facilities
• Low-temperature, high-humidity defrosting technology that can help maintain quality during processing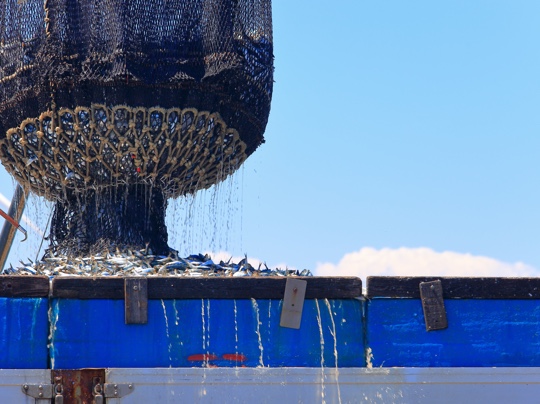 Processing variations that contribute to a rich food life for consumers
IQF (Individually Quick Frozen) freezer technology that maintains deliciousness and freezes prawns, shellfish, and other kinds of seafood that easily stick together in a loose state, provides an effective solution to consumers who only need to use a certain amount of product when cooking. Additionally, processed seafood products that have been dried with cold air offer a variety of advantages, including low protein denaturation, beautiful color and luster, non discoloring by oil, easy storage, and long shelf life.
With processing technology that realizes "flavors as they are meant to be" and "even more deliciousness," consumers can enjoy a wide variety of seafood tastes.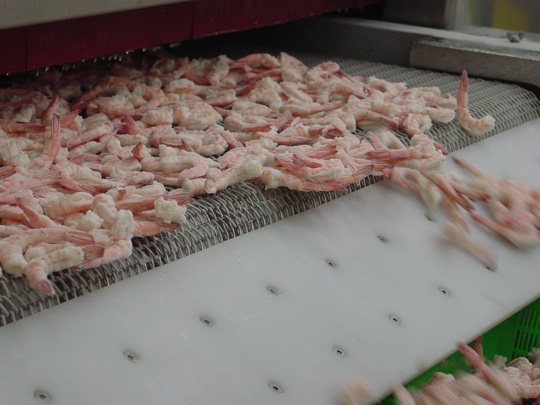 Become a partner that maximizes your business
The know-how cultivated in domestic and overseas delivery results is organized in Japan, and we collaborate with local corporations and various partner companies around the world, mainly in Japan, to propose production equipment that suits your purpose.
Working to ensure food is delicious
Mayekawa's main Moriya Plant has a food testing laboratory, CO_Lab., which annually tests more than 160 different foods. Supporting various kinds of testing, such as that related to freezing, thawing, line operation, and detection, the versatile lab plays a role in helping clients manufacture even better products.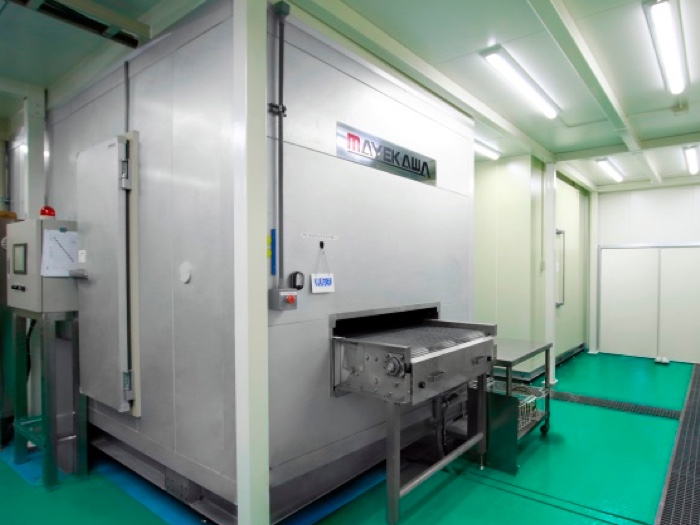 Food testing laboratory Co_Lab.
Applying total engineering to solve client problems
In addition to engineering for each process, by also combining thermal engineering centered around advanced equipment and software engineering, including that for production management systems and traceability, Mayekawa can offer optimal solutions for your production line needs.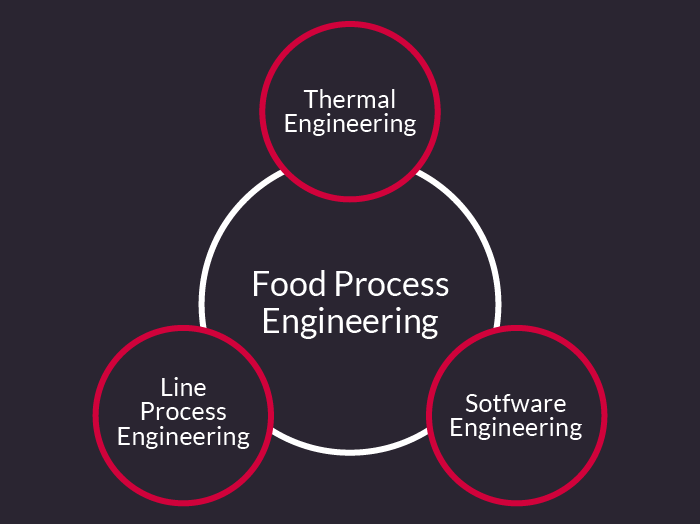 From basic design through to ongoing maintenance, we provide full support for your equipment installation plans
Our head office department specializing in food organizes information related to customer issues and requests. Even after planning has started, we back local sites with know-how and experience gained in delivering equipment all over the world. From basic design through to ongoing maintenance, we can offer manufacturing equipment and services tailored to client needs in collaboration with local subsidiaries and our partner companies around the world.