ICE MAKING
Energy-saving technology to allow products to stay fresh longer
Better for you, your customers
and the environment
Energy conservation

With MYCOM, reduce power consumption when making ice

Ice variations

Compatible with various types of ice-making equipment

Ice that does not easily melt

Make ice that is high in quality and purity
Contact us for more details
Reduce running costs with MYCOM compressors
The key to achieving efficiency in the ice making process is to develop a high efficiency compressor and control evaporator temperature. An important piece of equipment that determines the efficiency of the refrigeration system is the compressor. Among the MYCOM compressor lineup, the M-type series, which was developed as a large-capacity compressors for tube ice machines, boasts high COP (coefficiency of performance) with a design that minimizes the internal overheating of the suction gas, while also contributing to reduced running costs for the clients.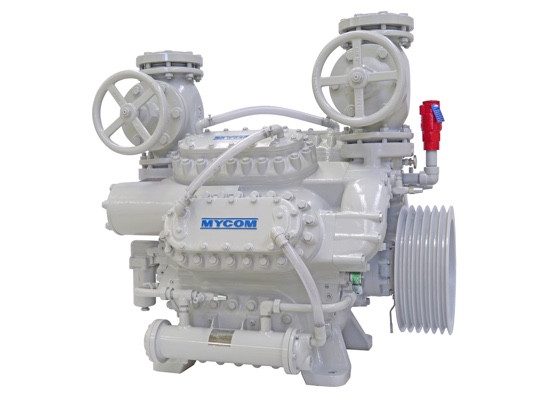 Ensuring the best match with a variety of ice making machines
Mayekawa can offer refrigeration systems that meet various specifications related to factors such as ice quality, production volume, time required, and refrigerants. We have a proven track record in delivering numerous refrigeration systems combined with a variety of ice making machines capable of producing tube, flake, plate, and block ice.
Whatever your demands, be they high capacity ice making or a system that includes transportation requirements, we can propose a system to meet your needs. Also, in addition to consulting about refrigeration systems, we can offer total solutions for ice making factories that include water treatment, ice making, ice crushing, weighing, wrapping, boxing, and storage.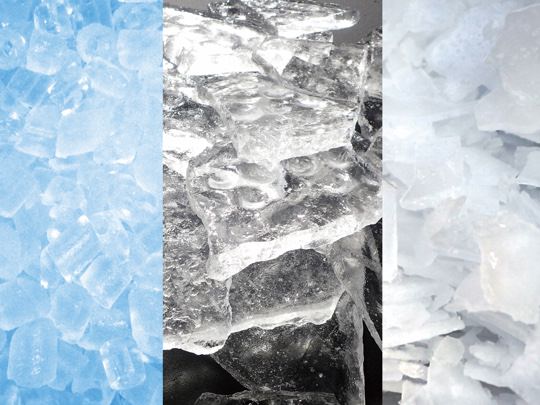 Creating a safe environment with indirect CO2 cooling
We have prepared a lineup of ice making systems that use CO2 as a refrigerant. These are systems wherein CO2 that has been indirectly cooled by a refrigeration system that keeps the amount of ammonia charged to an absolute minimum is pumped to a heat exchanger for ice making. Since the CO2 is not mixed with any lubricant, there is no drop in performance caused by oil accumulation in the heat exchanger used for making ice. They operate in a highly efficient manner throughout the year, and only CO2 is sent to the ice making machine, resulting in a safe and secure work environment. Additionally, the cooling effect of CO2 indirect cooling system makes it possible to produce flake and plate ice that is highly pure and transparent while also being difficult to melt. Our systems expand possibilities for operating ice making businesses that offer high added value, such as a long-lasting cooling effect.