Thawing systems
Mayekawa, which is known for its freezing systems, has developed thawing systems based on proprietary thawing know-how and extensive experience. There are large quantities of frozen raw materials at food processing plants. Effective thawing during the first stage of processing at a plant guards against heavy drippage (meat juices, cell fluids), and prevents a decline in the quality, texture and flavor of the raw materials after thawing due to cell destruction.
Hyper Fresh - low-temperature high-humidity thawing system
Hyper Fresh
・By simply bringing the special high-humidity thawing unit into the thawing room, a refrigerator can be transformed into a defroster.
・By changing the defrosting program, the quality, yield rate, and defrosting speed can be adjusted.
・The heat source can be freely selected from among heaters, boilers, and heat pumps, allowing for inexpensive energy options.
・Even in low-temperature high-humidity spaces, condensation does not develop on internal wall surfaces, resulting in a very hygienic environment.
・With turbulent airflow inside the cold storage space provided by a pressure fan, there is less temperature unevenness; thus, products can be evenly thawed at any location within the space.
・Employees are freed from having to come in early or on their days off to carry out thawing related tasks; stable, quality defrosting can be achieved year-round.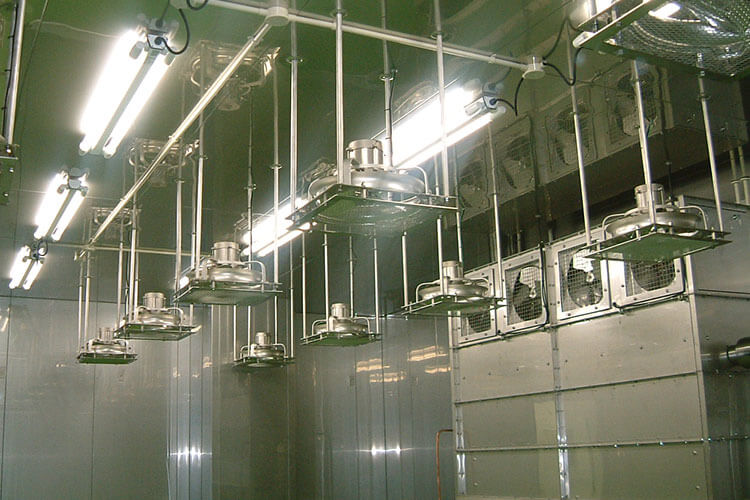 Pressure fan
WHERE TO USE
Raw material thawing for meat and seafood processing
We're ready to help, wherever you are