FREEZE-DRIED FOOD
The ideal production line incorporating the very best in equipment
Better for you, your customers
and the environment
Reproduce deliciousness

Temperature control that maintains a degree of vacuum in the dryer

Energy saving

Cooling equipment designed for the factory size and the manufactured products

People friendly

Structure production equipment operated by a few people
Contact us for more details
A cooling system that maintains a degree of vacuum in the dryer
In the manufacturing process for freeze-dried progucts, which are dried by having moisture removed from frozen foods via sublimation, changes in the degree of the vacuum in the dryer have a major impact on quality.
For cooling the cold trap that collects and condenses the water vapor that occurs on the cooler surface during sublimation, we offer cooling systems that use CO2 refrigerants appropriate for the product and method, such as the NH3/CO2 cascade method and the NH3/CO2 secondary refrigerant method. The temperature in the dryer is optimally controlled, even during extreme load fluctuations, and the stable production of high-quality products is realized through a cooling system that maintains a degree of vacuum.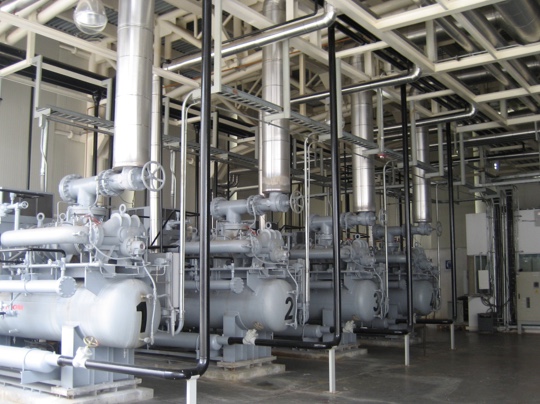 Highly efficient cooling systems that are environmentally-friendly and reduce power consumption
With factory manufactured freeze-dried products (FD factory), 80% of the electricity consumed is used for refrigerators related to cooling processes such as pre-freezing, various storage procedures, and vacuum freeze-drying.
Mayekawa offers an extensive lineup of cooling systems, allowing clients to select the best option based on factory size and purpose. Our cooling systems, which are safe, highly efficient, and utilize natural refrigerants, realize both environmental friendliness and reduced power consumption.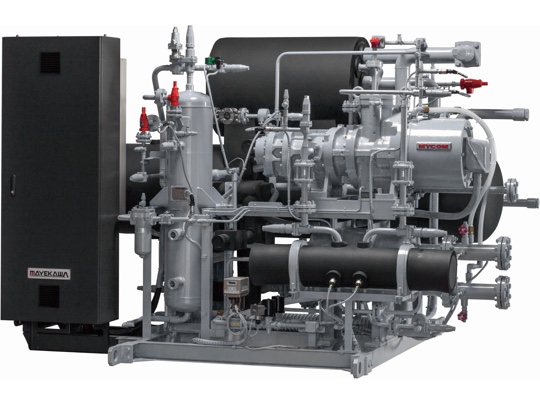 Offering production line solutions that free employees from heavy labor
Mayekawa can design production lines that reflect a lot of feedback received from clients in the food industry.
Production lines designed by Mayekawa incorporate unique, in-house developed equipment. This includes tray loaders, which can automatically perform the work carried out by two to three people who would normally load a tray filled with about 10kg of products in a trolley hangar, which is an indispensable part of an FD factory, unloaders, which do the process in reverse, and palletizing robots that load boxed products onto pallets.
Our production lines can save labor at the factory as well as free workers from heavy labor.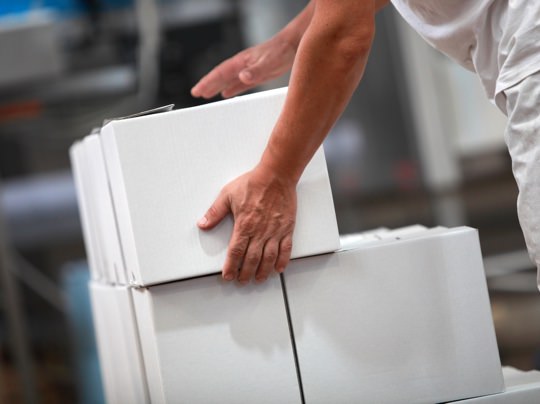 Become a partner that maximizes your business
The know-how cultivated in domestic and overseas delivery results is organized in Japan, and we collaborate with local corporations and various partner companies around the world, mainly in Japan, to propose production equipment that suits your purpose.
Applying total engineering to solve client problems
In addition to engineering for each process, by also combining thermal engineering centered around advanced equipment and software engineering, including that for production management systems and traceability, Mayekawa can offer optimal solutions for your production line needs.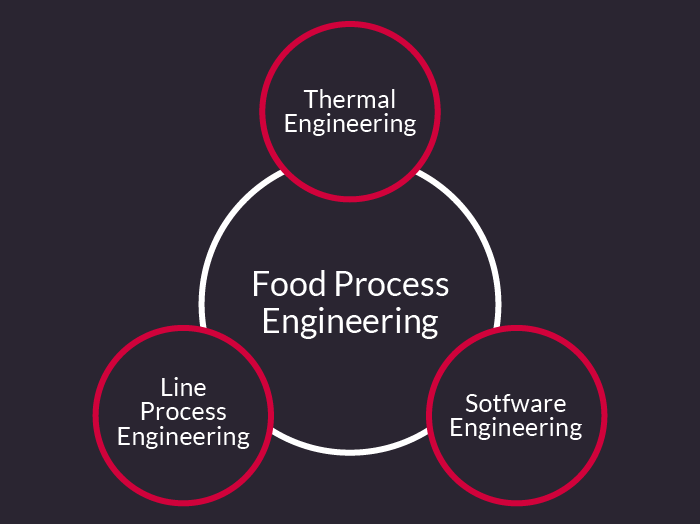 From basic design through to ongoing maintenance, we provide full support for your equipment installation plans
Our head office department specializing in food organizes information related to customer issues and requests. Even after planning has started, we back local sites with know-how and experience gained in delivering equipment all over the world. From basic design through to ongoing maintenance, we can offer manufacturing equipment and services tailored to client needs in collaboration with local subsidiaries and our partner companies around the world.