COLD STORAGE
Refrigeration systems to build a post-carbon society
Better for you, your customers
and the environment
Conserve energy

Low-energy-consumption cold storage

Deliver the freshness

Stable, optimal temperature and humidity

Reduce environmental impact

Environmentally friendly cooling facility design
Contact us for more details
Supports provision of a stable food supply chain
The demand for food is rising due to a growing global population, especially in emerging countries. Extreme weather brought about by climate change is negatively impacting natural ecosystems and land suited for cultivation, while also causing natural disasters. Against such a backdrop, infrastructure linking production, transportation, and consumption will be indispensable for providing a stable supply of food to various regions in the future.
Mayekawa supports the provision of a stable food supply through a production-transport-consumption cold chain that distributes fresh food at a constant low temperature. This is done through design, construction, and engineering technologies worldwide for various cold storage systems covering a range of needs, such as the precooling of post-production agricultural products, the freezing of meat, fish, and processed foods, and storage in the distribution process.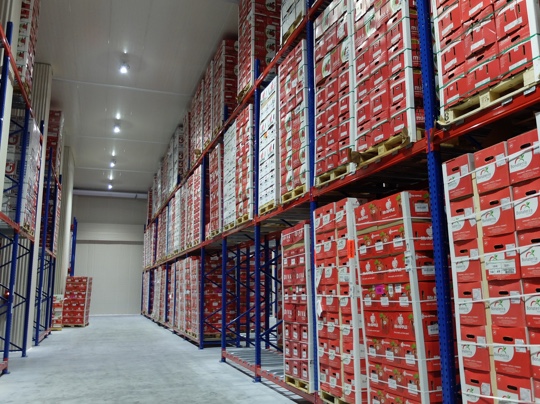 Design for required value
Depending on the cold storage, the state of the products, surrounding environment and operating rates vary. To realize an optimized cold storage, a wide range of knowledge and expertise is needed. Not only know-how related to cooling equipment, such as pressurized air conditioning to prevent intrusion of outside air, controlling humidity to prevent moisture condensation and maintain quality of stored items as well as improving the working environment, know-how in construction, material handling, and interior humidity is also required.
To realize an optimized cold storage with the required added value, Mayekawa carefully visualizes the total balance of the facility and attentively selects systems and equipment designed with full consideration of safety and economic efficiency.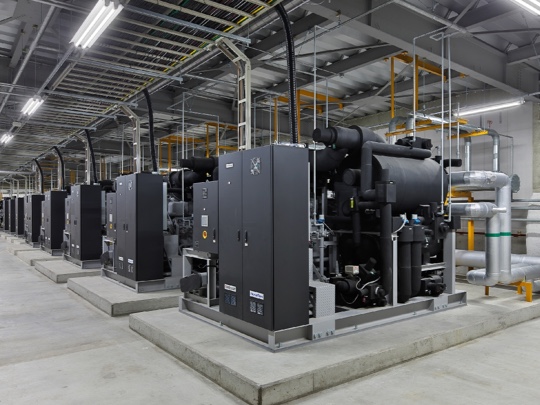 Energy conservation engineering conducted by professional engineers
More than 60% of the energy used in cold storage is for powering the cooling equipment. An energy-saving cold storage can be realized by cutting back on the amount of power used by the equipment. Power consumption can be suppressed through facility design, control of rate of equipment operation and energy efficiency of the systems and equipment of the cooling facility.
Mayekawa designs cold storages using the most suitable refrigerants and systems (direct expansion type, flooded type, liquid pump type, indirect brine type, etc.) according to the scale of the facility and temperature range required. In addition we also calculate all the heat loads that occur in cold storages and employ multifaceted solutions to realize energy conservation across the entire cold storage facility together with our customers. The solutions include air curtains to prevent heat intrusion, and thermal insulation to lessen the heat load coming from the walls of the facility.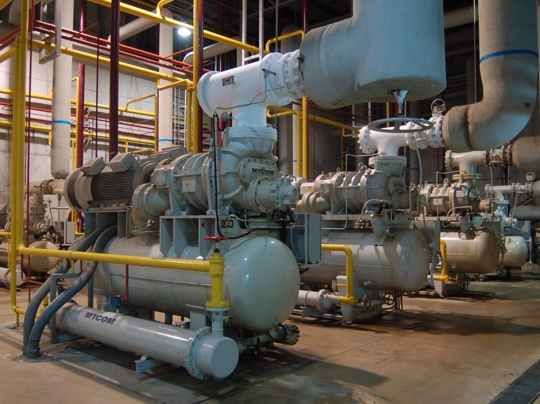 Stable cold storage operations at all times
Food products that have not been kept at the optimal temperature throughout the cold chain lose their freshness and cannot be consumed. Even in the unlikely event of a refrigeration unit malfunction, we are able to support the stable operation of cold storages with our global service network. And for old equipment, we can propose renewal of related equipment such as coolers and compressors to operate at maximum capacity.
Realize an environmentally friendly cold storage
Highly sustainable, environmentally friendly cold storages are required now. This can be achieved by using natural refrigerants in the cooling systems to protect the ozone layer and reduce CO2 emissions thus lessening the burden on the global environment. For this reason, Mayekawa is continuously developing various cooling systems that use natural substances such as ammonia, CO2, and water as working fluids. At the same time, by advancement of highly efficient cooling systems, energy conservation is realized and CO2 emissions are reduced.
Why not create a cold storage facility that coexists with the global environment by choosing a cooling system designed and manufactured by Mayekawa?