Jun. 9, 2014
90th Anniversary Message
Thanks to you, we reached our "90th Anniversary Year" on May 15, 2014.
My grandfather, Kisaku Maekawa founded "Mayekawa & CO." in 1924, by starting ice making and cold storage business. Since then we have overcome many obstacles and have continued to carry on this business.
Now I owe our 90th Anniversary to your continuous support and wish to express my many thanks to all of you.
In the 21st century, we are pursuing collaborative technology-innovation with our customers, "Co-Creation", which gives not only added value to customer businesses but promotes Mayekawa products. I believe, beyond competition, we are tackling global environmental problems, energy poverty problems, natural resources problems and food safety problems as a company and as a part of the human community.
We will continue to make contribution to society by creating team-work business and developing new technology. I appreciate your continued support and encouragement.
90th ANNIVERSARY LOGO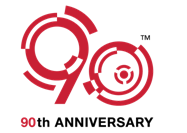 caption
We have made a LOGO as a symbol of our 90th Anniversary for the project of the anniversary until May 2015.
Looking forward to our 100th Anniversary all of us will focus on our vision and work together for the promotion of Mayekawa products.