May. 27, 2011
The first shipment abroad of adsorption chiller "AdRef-Noa", starting operation in Gamesa of PepsiCo group in Mexico in July.
Mayekawa Mfg. Co., Ltd shipped adsorption chiller "AdRef-Noa" abroad for the first time. It was delivered to Gamesa of PepsiCo group, one of the largest food and beverage manufacturers in Mexico. Recovering waste heat from the baking line in a confectionary factory in Guanajuato, three AdRef-Noas produce chilled water for air conditioning in the office in the factory.
Using little energy of 0.4kw AdRef-Noa recovers low waste heat of 60 - 80°C and produces chilled water of 5 - 15°C. It encourages the efficient use of unused energy such as "natural energy", "industrial waste heat", and "biomass energy".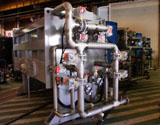 Three AdRef-Noas delivered to Gamesa of PepsiCo group