Jan. 19, 2010
Mayekawa will exhibit at HVAC&R JAPAN 2010.
HVAC & R JAPAN 2010 will be held at "Tokyo Big Sight", Tokyo International Exhibition Center from February 16 through 19 in 2010, organized by the Japan Refrigeration and Air Conditioning Industry Association.
We will set up a booth with a theme of "Unique Green Innovation developed by Mayekawa" and demonstrate our CO2 Heat Pump Hot Air Heater "EcoSirocco", adsorption chiller "AdRef-Noa", and CO2 Heat Pump "EcoCute".
We will also be introducing our state of the art technologies which cover temperatures from -100℃ to +200℃ including "PascalAir", Air Cycle Refrigeration System and HCFC-free heat pump for air conditioning.
Please stop by our booth and see our energy-saving and natural refrigerant technologies, and also attend our presentation seminar.
DATE

February 16 to 19, 2010

Place

East Hall 1,2 at Tokyo Big Sight

Mayekawa booth

1-605

Presentation seminar

Introduction of "MAYEKAWA EcoSirocco", CO2 air heater

Date & Time : February 17, 2010 14:00 to 14:45
Place : Room 101 on ground floor at Conference Tower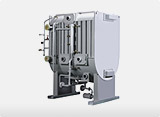 Adsorption Chiller "AdRef-Noa"