Stories
Reducing workloads with reliable deboning technology and stabilizing production to meet market demands for pork
In recent years, securing employees for meat processing work has become increasingly difficult, and many owners view this situation as a problem. The number of processing plants that cannot meet staffing needs with employees from their own countries and are forced to rely on workers from neighboring countries to ensure continued production is also increasing. Furthermore, turnover among workers is very high, and maintaining a workforce capable of efficiently carrying out deboning work is difficult.
With meat being soft and each piece a different shape, automating the deboning process has proved to be a challenge, and to date, the work has been carried out by hand. Furthermore, removing bones from meat efficiently with high yield requires expert technique, and cannot be quickly and easily carried out by just anyone.
As the economy grows, these issues have become a constant problem for the meat processing industry, and with each passing year, their prominence is increasing. Over many long years, Mayekawa has been working to solve these challenges together with the meat processing industry.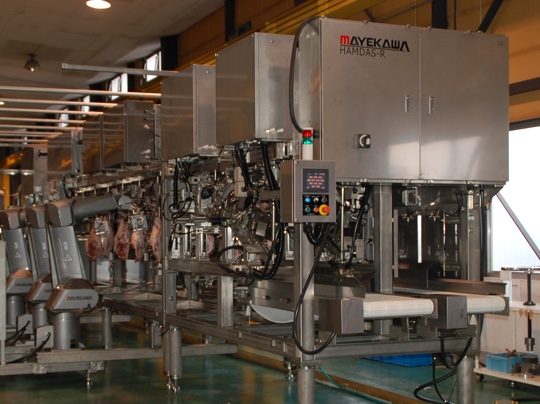 A shortage of workers in the meat processing industry is seen as a global issue
In 1994, Mayekawa commercialized a fully automatic deboning machine for the poultry industry. However, at the same time, automation for the pork deboning process was not realized. Deboning of pork ham, with the complex shape of the bone and thickness of the meat, is much more difficult than deboning poultry.
Worldwide production of pork is about 120 million tons (on a dressed carcass basis). At a large-scale meat processing facility, about 32,500 carcasses can be processed in one day over two shifts. In order to secure the required labor, facilities in Europe rely on foreign workers; however, establishing capable workforces remains difficult. Mayekawa has a long-proven history working with meat processing companies, providing them with refrigeration equipment and production line engineering. Against such a backdrop, we felt a strong desire to help the meat processing industry solve this problem. Knowing that the challenge would still be difficult with the level of Mayekawa's technology at that time, we embarked on the development of an automatic deboning robot for pork.
Initial development efforts did not produce the results that were hoped for. Through repeated trial and error, we were finally able to overcome this new challenge and develop HAMDAS-R, an automated deboning machine that incorporates a six-axis robot that increased the degree of accuracy of meat slitting, a key point of the deboning process.
HAMDAS-R can debone 500 pork ham per hour. In order to prove the automated deboning machine's practicality, a field-testing partner was needed. Deboning with a six-axis robot holding knives was a completely new concept that had never been tried before, and it was a Dutch meat processing company that expressed interest in helping us trial the automated deboning machine.
"We are eagerly awaiting the automated deboning machine's completion. When you are done, please field test it at our company."
With that, new steps forward were taken toward the realization of a fully automated deboning machine for pork.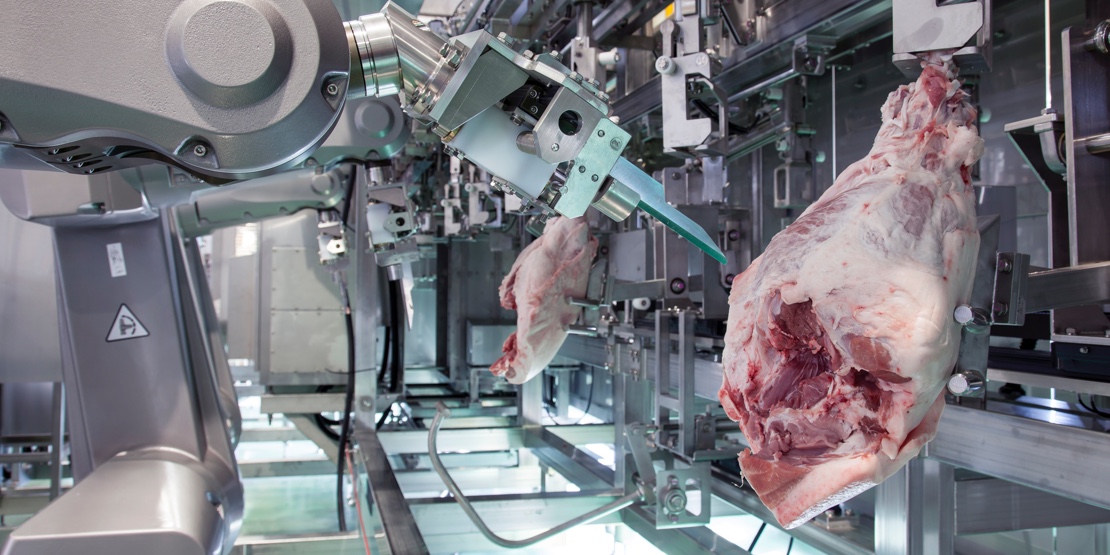 By undertaking development together with clients
value above and beyond their expectations can be delivered
In order to meet partner expectations, a prototype of the HAMDAS-R was made and then field-tested at the client's facility.
By field testing, direct client feedback could be obtained, and actual on-site performance monitored, allowing HAMDAS-R to be continually improved and refined. There are also positive effects from a different aspect. By talking openly with each other in setting up the system, an atmosphere of joint development is created. This, in turn, leads to the formulation of forward-looking proposals that are one step ahead of client needs and the creation of value that goes above and beyond expectations. In this manner, we created the first model together with the client while identifying issues and ascertaining the required functions.
After installation and with full cooperation from the facility, improvements were made while carrying out test cuts.
Additionally, the quality of the meat will vary depending on various factors such as the breed of the pig, breeding conditions, the temperature the meat was stored at, and the processes applied prior to deboning; as such, adjustments were repeatedly made to fine-tune the robot so that it was in line with the pork ham handled by the processing plants.
Not long thereafter, a new mission was born.
Namely, improving the yield rates in daily production. In response to the new need for "improved yield," Mayekawa sought to combine its six-axis robot with X-ray imaging, an idea that companies specializing in robots or X-ray technology would never come up with. By combining the robot with X-raying capability, the exact location of the bone in the meat could be accurately ascertained, and the bone could be removed without waste. The result of these efforts is the current HAMDAS-RX model.
The realization of this idea was a direct result of questioning, thinking and working together alongside the client. For example, once specific details such as "using a robot to cut meat three-dimensionally along the shape of a bone" are determined, development itself can be started. However, development must start with almost no knowledge and experience related to the specific tasks at hand, such as how to cut the meat, how to move the robot arm, how to take X-ray images, and how to process them.
There are aspects where help from specialists is needed. However, rather than, for example, asking the robot manufacturer to do everything, such as programming the robot arm's movement, by doing things together, each concerned party can work proactively on development. This process may take some time; however, by employing such a process, an ideal system truly needed by the client can be developed.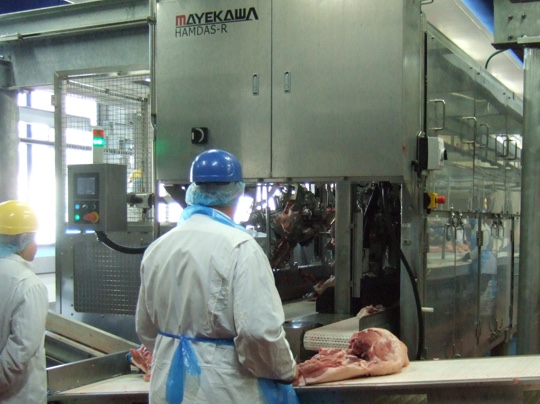 In addition to improving work efficiency, contributions to quality assurance and the reduction of work-related accidents can be achieved
By replacing manual pork ham deboning work, which is labor-intensive and requires a high level of skill, with HAMDAS-R, the meat processing company could achieve a 50%~60% workforce reduction (from 12 people to 6) in deboning-related tasks.
Additionally, HAMDAS-R made it possible to reduce work-related injuries, such as tendonitis and knife cuts for those involved in manual labor.
Furthermore, for problems such as high turnover among deboning workers, the need to train a highly-skilled workforce, and the difficulty in passing on deboning technique, all of which result in instability in maintaining the quality of deboned meat, by installing a HAMDAS-R, which debones at a constant processing speed with a yield equivalent to that of work carried out by hand, the required level of deboning technique could be maintained, and stable, consistent deboned meat quality, yield, and production ensured.
So that the processing plants could become proficient in the use of HAMDAS-R immediately after installation and startup, members of Mayekawa's technical team lent their support, ensuring operations could be carried out with peace of mind.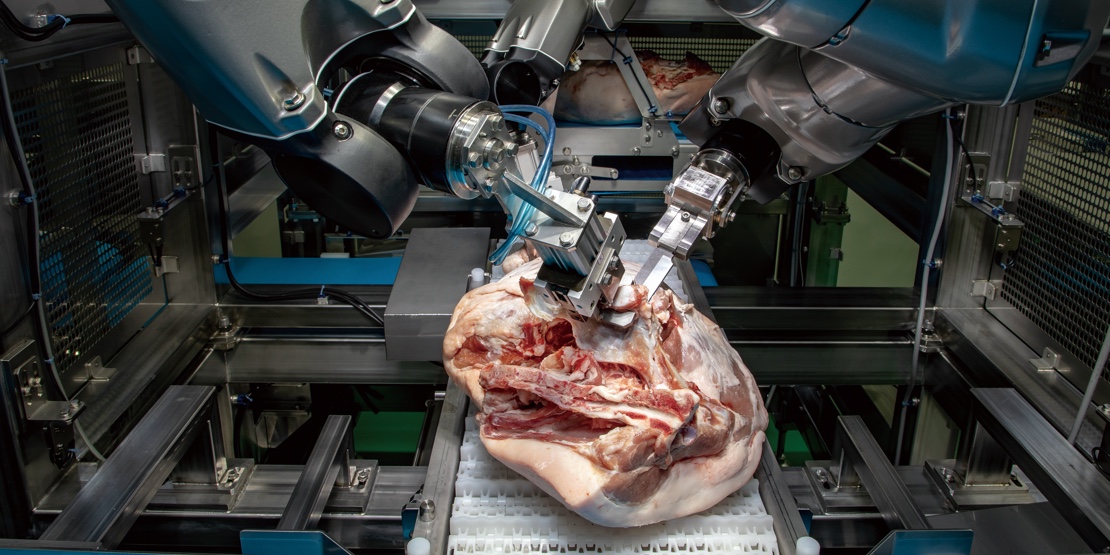 By continuing to take on challenges together with clients
we aim to revitalize the meat processing industry
As a result of the HAMDAS-R project, we started to receive inquiries about automating other processes. This is proof that "if you partner with Mayekawa, you will be able to create new and lasting value together." However, it is also true that there are parts and bones for which the deboning process has yet to be automated. So, we must continue to work on maintaining consistent quality and eliminating labor shortages along the entire production line.
To that end, we are aiming for further growth through the incorporation of leading-edge technologies such as deep learning and 3D measurements.
While focusing on immediate challenges as well as the future that lies ahead, we will continue to work toward automating meat processing facilities in order to eliminate labor shortages and provide a stable supply of quality pork products.
We're ready to help, wherever you are
Our mission is to create a sustainable future by pursuing optimal systems,
equipment and technology while working side-by-side with customers.