Ice storage systems
Ice (cold energy) is kept in a storage tank to provide a stable supply of low-temperature chilled water that is close to 0℃ (32℉). In line with their load and application needs, clients can choose from two types, a slurry ice system or a static ice system. Additionally, we can design storage tanks according to heat source capacity and heat loads.
Slurry ice
SLEET - slurry ice system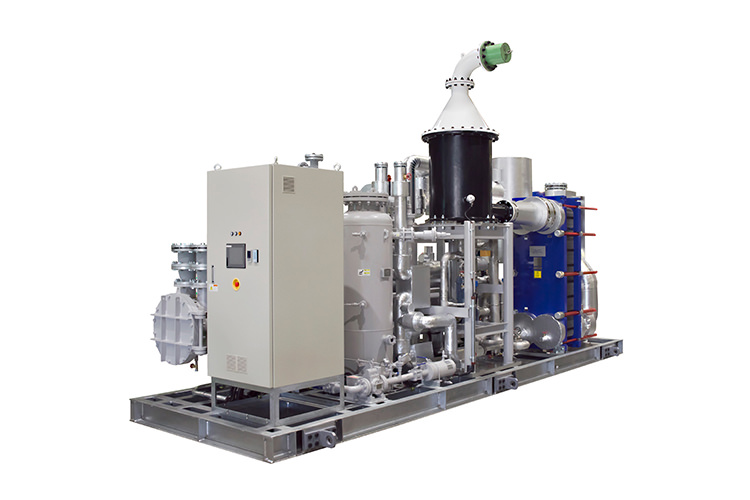 This super cooling system makes slurry ice continuously without scraping machine and reserves heat to effectively provide chilled water at close to 0℃ (32℉). Slurry ice is flexible in application offers superior flow properties, high cooling capacity and the system offers a stable supply of low temperature water even under high-load conditions.
・What is super cooling?
A method of producing ice which chills water to below 0℃ (32℉) temporarily thus producing slurry ice in the flowing water from the supercooled water in the system.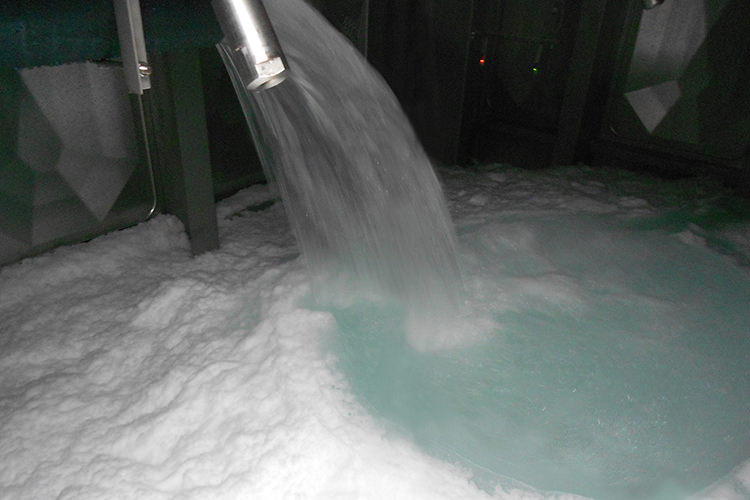 Interior of ice thermal storage tank
SPECIFICATIONS
Cooling capacity: 240 to 880kW (68.2 to 250.2USTR)
Ice-making capacity: 2.3 to 8.6t/h
Refrigerant: Ammonia (R717)
WHERE TO USE
Process cooling in dairy and beverage factories
Product heat exchange, tank jacket, pasteurizer, cooling processes for mixing, etc.
Product cooling at foodstuff factories
Retort sterilization cooling , boiling bath cooling
Low-temperature air conditioning for pharmaceutical plants and food factories, etc.
Static ice
CO2 ice chiller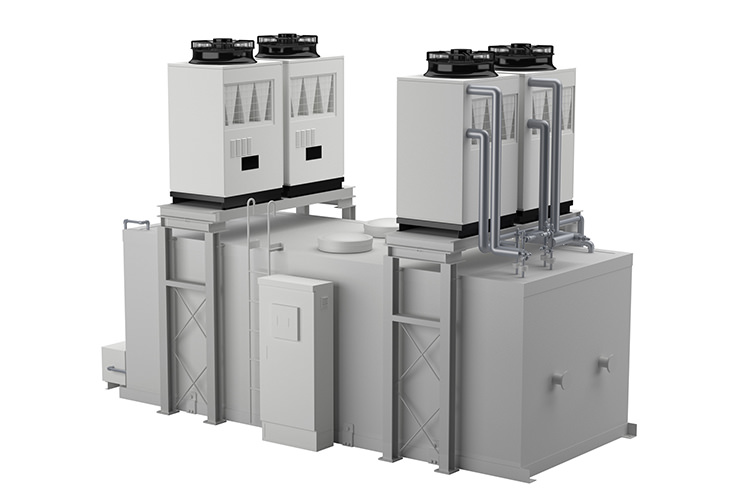 The chiller is equipped with a small NH3/CO2 package as a refrigerator. CO2 refrigerant is supplied to the cooling coil in the heat storage tank, and using the latent heat, ice is created on the exterior of the cooling coil, heat is stored, and ice is melted to produce chilled water. Only CO2 refrigerant circulates within the coil, so there is no oil, nor accompanying decrease in ice-making capacity. Additionally, since refrigerant is supplied to the entire coil, it is possible to make ice that has a uniform thickness.
SPECIFICATIONS
Heat storage capacity: 100 to 500TR
Power consumption: 20.4 to 81.5kW (27.4 to 109.3HP)
Refrigerant: Primary ammonia (R717), Secondary CO2 (R744)
Refrigerator: Small-sized NH3/CO2 chilled package (see SIERRA)
WHERE TO USE
Dairy and beverage process cooling
Air conditioning for food and meat processing factories
We're ready to help, wherever you are