Cooling systems for industrial processes
Systems from Mayekawa are used for a wide range of applications, including cooling fuel oil used in various ships, HIgh energy physics and fusion science laboratories, and cooling processes in the petrochemistry and medical fields. With technical expertise developed over many years, we can propose and develop unique systems that meet highly challenging client needs, such as those related to specific temperature zones, including ultra-low and cryogenic.
Cryogenic
Helium gas compressor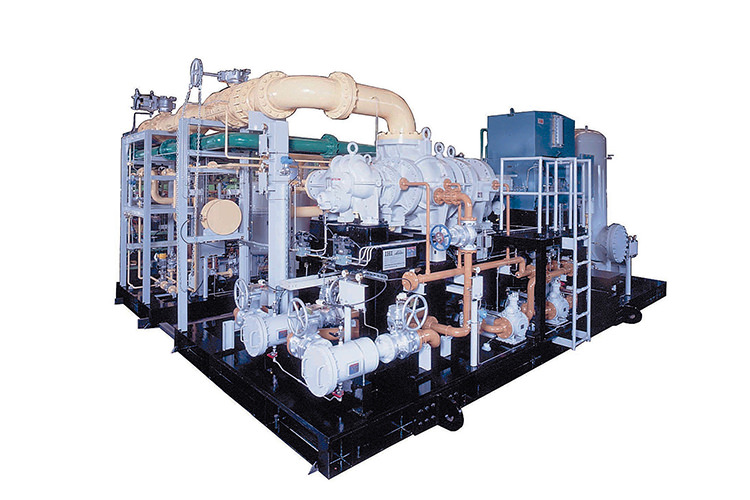 Helium gas compressor
We have been responding to client needs since developing the world's first oil-injection helium compressor almost a half-century ago. We are rated highly on various aspects, such as our simple packages realized by using Mayekawa's original large compound compressor and the adoption of new lubricants that suppress the generation of impurities. We have an extensive and proven track record in HIgh energy physics and fusion science laboratories, and are active all over the world, including Japan, the US, Germany, France, China, Russia, India, and South Korea.
SPECIFICATIONS
Displacement: 240 to 15,800m3/h (141 to 9298CFM)
Suction pressure: 15 to 700kPaA (2.2 to 101.5psiA)
WHERE TO USE
HIgh energy physics
Fusion science
Anterooms(dock shelter, air shelter)
Cryogenic
Brayton NeO - brayton cycle cryocooler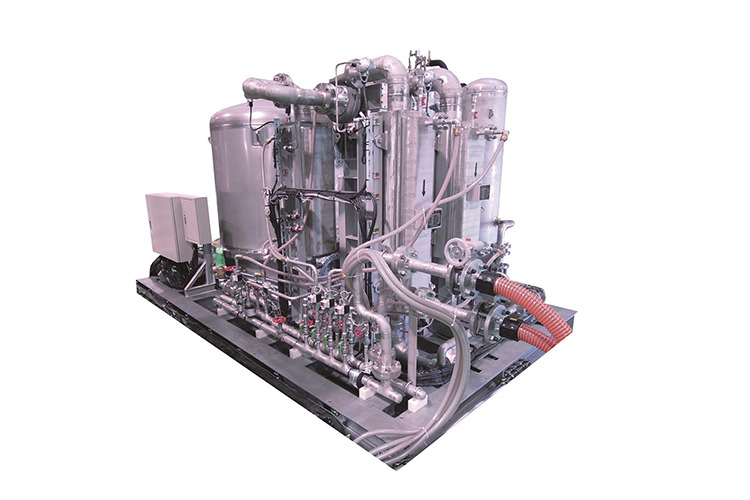 Brayton NeO
Brayton NeO is possible to cool below -220℃ (-364℉) utilizing a reverse Brayton cycle and a turbo compressor and expander.
We have provided the cooling system for high-temperature superconducting (HTS) device, the liquefier of LNG and the alternative cooling system of liquid nitrogen.
This refrigerator is used in industrial and medical, food industrial fields.
SPECIFICATIONS
Cooling Capacity: 5kW* (1.4TR)
Temperature Range: 65 to 120 K
COP: 0.08*

* class at 77 degrees Kelvin
WHERE TO USE
Cryogenic equipments
HTS system
LNG system
Ultra-low temperatures
PascalAir Brine Cooler Unit - air cycle system -50 to -90°C (-58 to -130°F)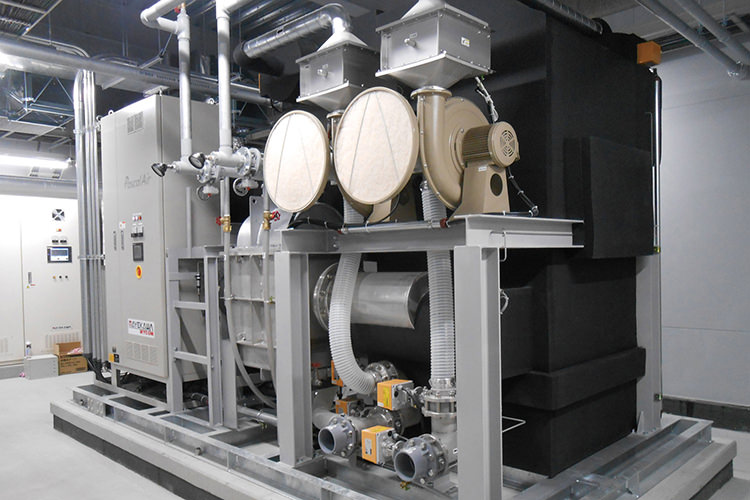 PascalAir Brine Cooler Unit
PascalAir is an air cycle system that employs glycol as an air refrigerant and uses a heat exchanger to create an ultra-low temperature range -50 to -90℃ (-58 to -130℉) with an air cycle.
Air, not HFCs, serves as the refrigerant, so the refrigerant does not negatively impact the environment. Furthermore, in the ultra-low temperature range -50 to -90℃ (-58 to -130℉), it is possible to reduce CO2 emissions and achieve energy savings of up to 50% over conventional vapor compression cooling systems.
SPECIFICATIONS
Cooling capacity: 15/34kW (4.3/9.7TR)
Brine supply temperature : -50 to -90℃ (-58 to -130℉)
Refrigerant: Nitrogen or air
WHERE TO USE
Quick freezing
Freeze drying
Home appliance recycling (cryogenic grinding)
Semiconductor manufacturing processes
Markets requiring cryogenic temperatures such as medical
Pharmaceutical
Physics/chemistry fields
BOG reliquefaction
BOG gas reliquefaction equipment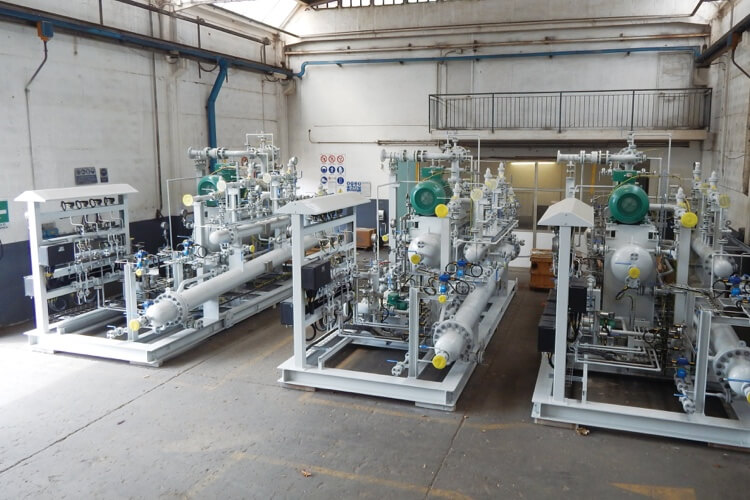 BOG gas reliquefaction equipment
It is inevitable that liquefied gas storage tanks will have some of their content gasified due to external heat inputs or cargo handling. Such gas is known as boil-off gas (BOG). Reliquefaction equipment for BOG re-liquefies the BOG by compressing and condensing it and then returns it to the tank. Mayekawa offers various gas re-liquefaction compressors and cooling systems for use in both onshore storage and marine transport tankers.
SPECIFICATIONS
Applicable gases: Ammonia, LPG, Ethylene, LNG, etc.
WHERE TO USE
Gas carrier
Import/export gas terminal and inland gas station
Gas processing plants
Petrochemical and chemical plant such as fertilizer plants
MGO (Marine Gas Oil) cooling system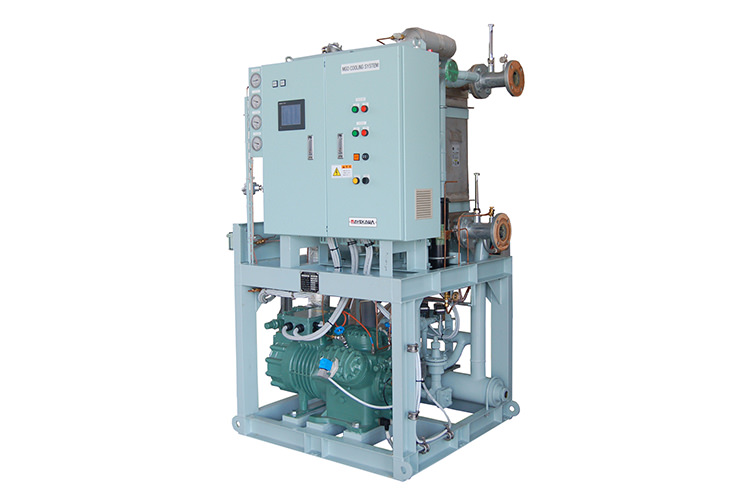 MGO cooling system
Compact and flexible designed fresh water chilling unit
• In the aim of installing the unit not only for the new building ships but
also for the existing ships, our units are so designed as to minimize the
foot print to be installed at the limited machinery space.
• For the condenser, it is possible to choose either fresh water cool or sea water cool type.
Very easy and reliable operation
• Utilizing Mayekawa electronic expansion valve system for the fresh water chiller, the outlet fresh water temperature is very precisely controlled and at time superheating the same time, is controlled fully automatically, thus a very secured and reliable operation to be accomplished.
• The compressor's capacity control to be carried out step‐wise according to the suction pressure and full automatic controlled EPR is installed on the suction line to maintain the system running at very low heat load.
And with a combination of automatic controlled three way control valve installed on the outlet of MGO cooler, the MGO temperature to be finally controlled fully automatically and very accurately.
• To avoid heat contraction to main engine, generator engines and MGO piping, the cooling speed of MGO can be freely adjusted and controlled fully automatically.
SPECIFICATIONS
Dimensions of unit: L1000 x W1000 x H1950mm (≒39.4 x 39.4 x 76.8in)
We're ready to help, wherever you are