SOCIAL INFRASTRUCTURE
Achieve highly reliable soil stabilization and water stoppage engineering with a highly efficient, environmentally friendly soil freezing method that uses natural refrigerants
Client Data
Installation circumstances:

Natural gas-fired power plant construction project (Otaru City, Hokkaido)
Installation location:

Within a tunnel for constructing a connecting drainage channel
Construction period:

2.5 months (from Jan 2017)

CHALLENGE
Necessity change soil freezing system using natural refrigerants
In construction work related to building a natural gas-fired power plant in a coastal area, work to connect a discharge tunnel and outlet used for draining cooling water from the power plant was conducted below the floor of the sea. In order to minimize above-ground impacts and allow safe and highly precise construction work to be carried out underground, a soil freezing method was adopted. Soil freezing is a ground improvement method that reduces the risk of underground water gushing out and sediment collapsing during excavation work by freezing and solidifying the groundwater-containing soil.
Until now, using fluorocarbon refrigerants with brine such as calcium chloride for cooling was common. However, in recent years, environmental problems such as global warming and the destruction of the ozone layer have also become concerns for construction and civil engineering companies. As problems such as these cannot be ignored, it led to soil freezing methods that use natural refrigerants being considered for the construction work related to the project.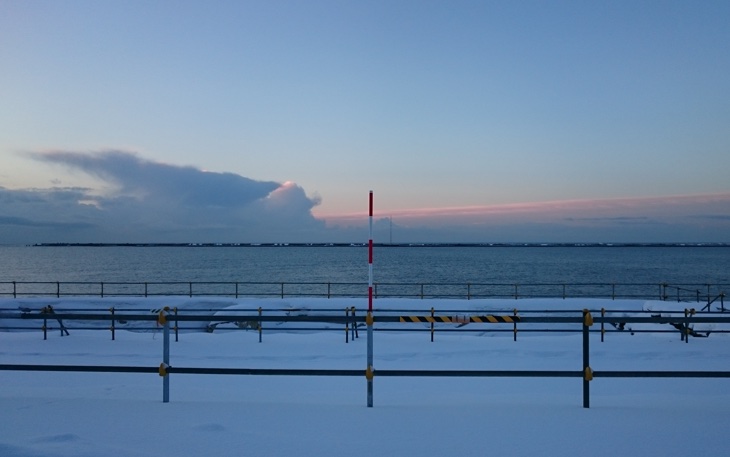 SOLUTION
Optimal engineering resulting from original design and technology
By introducing the NewTon, a highly efficient natural refrigerant cooling system that uses NH3 as a primary refrigerant and CO2 as a secondary refrigerant(CO2 birne),concerns about global warming and ozone depletion could be eliminated due to the use of these natural refrigerants.
The equipment used in the project was specifically designed for installation in the tunnel. In order to secure space for dismantling and removing the shield machine and carrying out cooling work at the same time within the 4.5m-diameter tunnel, the equipment installation area was kept within a width of 1.2 m.
After construction was completed, the refrigerants in the cooling system were recovered and the equipment removed. All processes at the power plant were completed in August of 2018, and the plant officially began operating in February of 2019 to continually supply power to the region.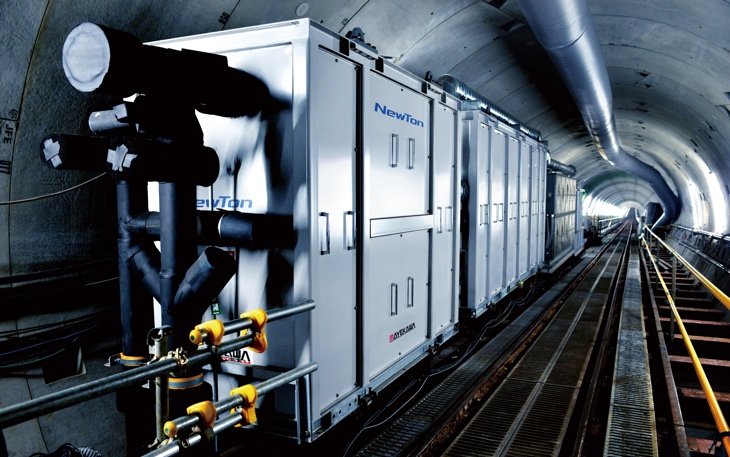 RESULT
Benefits of the NH3/CO3 brine system
In addition to reducing environmental impacts, utilizing the highly efficient natural refrigerant NewTon cooling system offered the following advantages.
Simplified construction processes and shortened time needed for construction
By reducing the cooling temperature to -45℃ from the -30℃ temperature used with the traditional method (calcium chloride brine method), freezing time could be greatly reduced.
Due to the compact design, space within the tunnel could be used effectively, allowing for soil freezing work and dismantling of the excavator to be carried out at the same time.
In addition to the high heat transfer characteristics of CO2 brine, high-density heat transfer is possible, allowing for the use of thin, lightweight easy to manufacture piping material which improved work efficiency.
Energy conservation
The flow rate of CO2 brine is one-tenth that of the conventional method, and, because viscosity is low, pump power could be substantially reduced. The entire system's power consumption was reduced by about 40% compared to the conventional method.
A soil freezing method that is indispensable for underground construction related to infrastructure development and reducing traffic congestion in large cities. Mayekawa's outstanding technical capabilities support this crucial freezing process.
Our mission is to create a sustainable future by pursuing optimal systems,
equipment and technology while working side-by-side with customers.
We're ready to help, wherever you are