Jump-start a cool career with Mayekawa
---
In April, Cole Danyluk, a mechanic with the Mayekawa Calgary team, completed his apprenticeship training and became a red seal journeyman.
Cole started his apprenticeship with Mayekawa in Grade 12 through Alberta's Registered Apprenticeship Program (RAP). The program is designed for students who have identified their career interests and are ready to learn and practice their future trade while still in high school.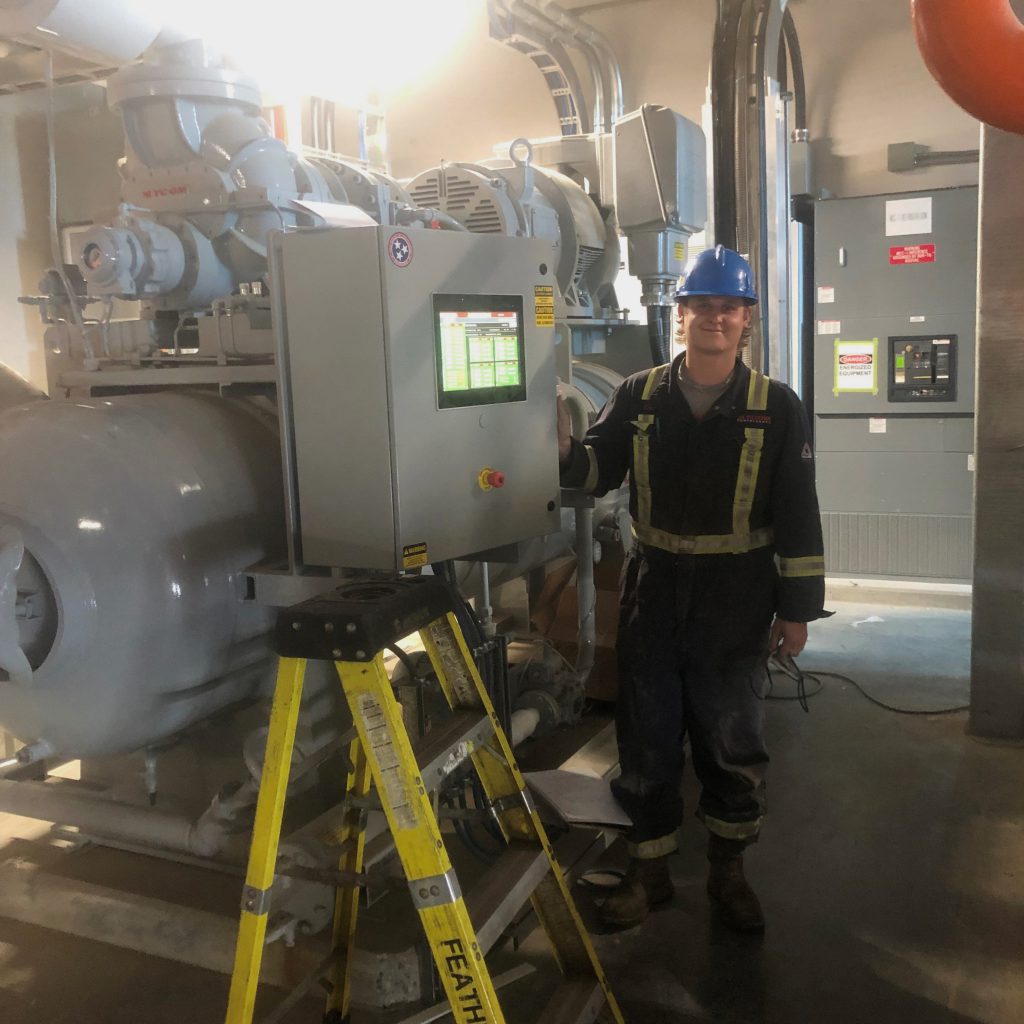 Being a full-time student and an apprentice at the same time was hard, but Cole was already used to it. Coming from an agricultural family, working hard has been a way of life for him. He worked with Mayekawa's Service team in the morning and attended school in the afternoon for a year. All the hours he put in paid off handsomely, it jump-started his career and allowed him to save up and afford a new truck. That year's hours also counted towards his first year in SAIT's 4-year apprenticeship program.
After graduating from high school, Cole continued this path by working full-time for 10 months before enrolling in SAIT's Refrigeration program. For the next 3 years he spent 10 months working at Mayekawa and 2 months attending school.
Cole gradually took on more responsibility as his training progressed. He benefited from both the formal training from SAIT as well as the industrial expertise from Mayekawa's Calgary crew. As SAIT's program puts a focus on residential refrigeration so the skills and experience unique to oil and gas and industrial refrigeration were passed to him from his mentor and co-workers.
Calgary's service team has over 140 years of combined experience in industrial refrigeration, "…it's the capacity that can't be learned from school", says Cole. He looks up to mechanics he works with, "…all of them are good teachers, they will always steer you on the right path and simplify things if you don't understand."
In February, Cole passed both the SAIT and Red Seal exam, officially became a journeyman refrigeration mechanic. When the 23-year-old was asked what comes next for him, he said it would be to gain more experience and familiarity with different refrigeration systems and be able to go out in the field by himself.
Looking back, Cole is glad he chose this career and started with Mayekawa. The apprenticeship program allowed him to get a jumpstart on life when compared to some of his peers. He also appreciates switching between work and school during the apprentice program. The gradual increase of responsibilities provided a smoother learning curve comparing to going to school for 4 years then working full-time with no experience.
Not long before Cole completed his program, the Calgary team took in another apprentice who will be starting SAIT's program soon. Over the years, Mayekawa's core philosophy remains the same, it's all about their people. The passing of skillsets and workmanship from one generation of employees to the next is crucial to the evolution of our service and technologies. Our journeymen are passionate about supporting the future of their community, and the refrigeration industry as a whole.